Water Damage Restoration St. Charles
When your property experiences a flooded basement, ceiling leak, burst pipe, or other water damage emergency that requires prompt services, call 911 Restoration of St. Charles.
Our water damage restoration professionals are dispatched to the site of the emergency and arrive within 45 minutes or less. We're available 24/7/365 to assist customers in St. Charles and surrounding areas with any water damage restoration, mold inspection, mold remediation, or mold decontamination needs.
Winter storms, tornadoes, and winds can cause floods and other unexpected disasters that can wreak havoc on your property. Fortunately, our water damage restoration technicians are trained and certified in IICRC to address a variety of water damage restoration needs.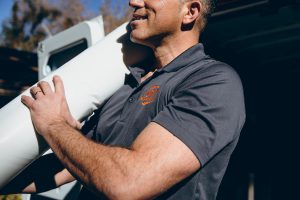 From flood cleanup, mold removal, mold inspection, to mold remediation, we can take care of any repairs for speedy and reliable residential and commercial restoration. Our on-call crews help provide speedy water damage inspection and extract moisture from your property. As a water cleanup service, we eliminate all signs of water exposure by dehumidifying surfaces and checking for mold. 
After winter storms, many properties experience mold outbreaks due to moisture retention. It is important to hire a trusted water extraction company that can handle a pipe burst, flooded basement, or leaking pipe and treat the root cause of a water leak. If moisture is not treated, you may experience mold growth at your property. Our experts are trained in the latest mold remediation techniques to properly sanitize and perform mold removal for residential or commercial restoration.
Restore your property today by reaching out to 911 Restoration of St. Charles for flood cleanup, mold inspection, or mold removal for residential or commercial restoration.
What Are the Benefits of Flood Cleanup in St. Charles?
Tornadoes, harsh wind storms, and other disasters can cause much destruction to residential and commercial properties in St. Charles. Our disaster restoration technicians understand how stressful it can be dealing with costly disaster restoration services for water damage.
As a nationwide water removal company, we strive to provide affordable and reliable water damage restoration services.
Responding to a disaster right away can save you time and money in the long term. Immediate flood cleanup by a team of professionals can help bring your property back to pristine condition.
Untreated water or leakage problems can pose an even bigger threat if it remains on your property, so it's important to move quickly.
Our trained disaster restoration technicians understand the urgency of treating water damage. 
It takes a team of water damage restoration specialists to safely and quickly remove water. 911 Restoration of St. Charles is committed to giving you the "Fresh Start" you deserve. We'll handle water extraction, ceiling leaks, and toilet overflows and also inspect for mold. 
As a reliable water extraction company, our disaster restoration technicians can store your undamaged possessions to ensure they don't sustain further damage. Finding quality water damage restoration experts shouldn't have to be a difficult task. Let 911 Restoration help restore your property today.
How Do Techs Handle a Flooded Basement in St. Charles?
A flooded basement can happen at any time. The response time for flooding can mean the difference between extensive or minimal damage.
Fortunately, 911 Restoration of St. Charles dispatches experienced water damage restoration technicians to offer same-day help with water removal and flood cleanup at your residential or commercial property. We can assist with setting up pumps to remove water, setting up dehumidifiers to extract remaining moisture, and repair damage caused by moisture.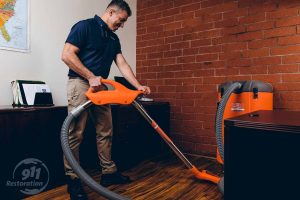 Water damage may include a flooded basement, toilet overflow, ceiling leak, water drenched carpet, or other problems. A flooding can also cause a frozen pipe burst or other emergencies that need to be assessed immediately. Our water cleanup crews can repair leaking pipes and reduce the odds that you will experience another flooded basement emergency. 
911 Restoration of St. Charles provides year-round service to commercial and residential property owners throughout St. Charles and surrounding areas 24/7/365. If you are experiencing water leakage, a burst pipe, or a mold problem, please don't hesitate to reach out to 911 Restoration of St. Charles for assistance following major winter storms, tornadoes, floods, or winds. 
When you're dealing with a water damage emergency, you want your property to be in good hands. 911 Restoration is a trusted water extraction company with experience in mold remediation and fire damage restoration. Our technicians have the expertise and training to eliminate moisture and safely perform mold removal at your property. From flood cleanup, mold decontamination, to sanitization, we strive to give you the "Fresh Start" you deserve. Take charge of your future and protect your property from further damage by calling 911 Restoration of St. Charles today.