Water Damage Restoration St. Charles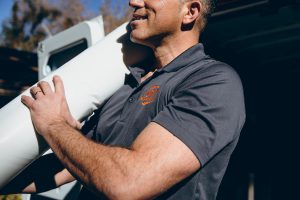 Located near the Missouri River, summers in St. Charles are hot and humid, while winters are cloudy and cold. All of these factors can lead to water damage in homes and businesses, like the beautiful, historic buildings downtown. 
Whether man-made or caused by nature, water damage wreaks havoc on all kinds of buildings. When you have flooding in your basement or a sewage backup St. Charles on your property, you learn the hard way that water is never easy to control. To make matters worse, flooding, tornadoes, and winter storms all cause water-related property damage in the St. Charles area.
When you need water damage restoration or any kind of disaster restoration St. Charles in the cities O'Fallon, Saint Peters, Wentzville, or the surrounding areas, trust our expert staff at 911 Restoration of St. Charles. In addition to same-day service, we guarantee a trained specialist at your door within 45 minutes of your call. We're available 24/7/365 to tackle your water damage restoration in St. Charles because we know emergencies can't wait. 
Our friendly staff in St. Charles knows that no matter where you live, owning and maintaining a property is expensive. That's why we offer free visual inspection (for property owners only). As one of the top restoration brands in the country, we guarantee every member our team at 911 Restoration is IICRC-certified, and follows all CDC and EPA guidelines during restoration.  Call us at (636) 942-5516 and please allow us to offer you a free visual inspection.
When your home gets hit by a tornado or your basement needs flood cleanup, don't wait to resolve the problem. You've worked too hard to risk the welfare of your building and its inhabitants. With water damage, you need friendly, fast service you can trust. You need our water damage experts in St. Charles. Give us a call today.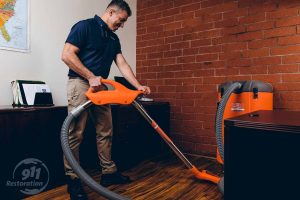 Basement Water Removal and So Much More
When your property needs flood cleanup or any kind of water damage restoration, we act fast to prevent further damage. If you're worried about your items or furniture, we offer moving and storage services to keep them out of harms' way. After water clean up service is complete, we dry the entire affected area using our professional equipment and practices.
Without expert treatment, water damage only gets worse over time. You might notice a damp, unpleasant smell in your basement even after flood cleanup, or experience allergies or dizziness after hiring a water extraction company. 
That's because mold 
growth is common after water damage. Unless you have a trained professional do a mold inspection, your property will need decontamination. mold removal St. Charles threatens the health of your building and its inhabitants.
If we find mold, we'll handle testing with a third-party laboratory to make sure it's not toxic for your residents. During mold remediation, we remove any damaged materials and disinfect the entire area. We use only the best techniques to make sure your property stays dry and mold removal is complete.
These days, the health of you and those closest to you has never been more important. That's why no mold decontamination or disaster restoration is complete without professional sanitization from our seasoned team members. Call us at (636) 942-5516 and learn how we can help.
A Water Damage Company You Can Count On
No matter the size or type of building, no restoration job is too big or small for us. We handle residential as well as commercial restoration. An appliance leak inside your property might seem like a small issue, but water damage can get worse over time. water damage repair in St. Charles, we make sure restoration gets done right the first time, so you can live free of mold or water damage. In the event of an emergency, we also offer board-up services.
As soon as you contact us, we'll have a trained professional onsite within the hour. After we identify the source of the problem, we give you a full breakdown of all services necessary to restore your property. Only after you approve our budget do we start restoration. During all repairs, we're open 24/7 to answer any questions, and we work with your schedule. At 911 Restoration, we put the customer first. Call us at (636) 942-5516 and learn how we can help.
Our team is here to take care of all your property's problems, not add to them. That's why we offer free insurance consultations, and we'll even handle your claim for you. The last thing you need after an accident or emergency is paperwork adding to your stress. When you need flood damage restoration in St. Charles and quality customer service, give us a call today.
Serving the communities of Augusta, Saint Peters and surrounding area.