Mold Removal St. Charles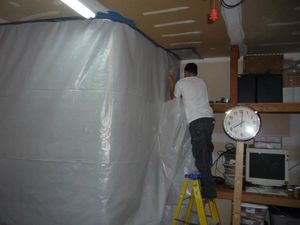 Homeowners should feel safe knowing that the capable hands of the mold removal St. Charles techs at 911 Restoration of St. Charles are waiting in the wings around the clock to assist you with any type of mold infestation you may be experiencing.
Our mold removal St. Charles offices are opened and available 24/7/365, because we know how crucial it is to get to your home quickly after it has been impacted by a pipe burst or other water-related issue in order to stop mold from growing.
Due to our many years of experience in the field, our mold removal St. Charles team understands better than anyone else how necessary it is to take immediate action, so when we arrive we are always ready to get to work with professional grade remediation equipment.
Our company works with IICRC certified technicians, and our mold removal St. Charles experts are well-versed in mitigating all levels of mold growth by offering the following services:
Mold testing services
water damage remediation
Mold infestation cleanup
Fungus and mold decontamination
Reparations of the source of the mold growth
Visual mold inspection
Mold spore removal
Mildew deodorization
Comprehensive mold and water extraction
Call us if you need help with a fungal problem, and you can be sure that our mold removal St. Charles agents will provide you with a free visual mold inspection upon arrival.
You Can Trust That We Are Trained in Expert Mold Infestation Removal
When you need a helping hand, our mold removal St. Charles team will be there to keep your home and your family safe from the effects of mold and fungus.
Our mold removal St. Charles staff know that removing the excess water from the home is the first step toward a successful mold removal restoration, so we implement meticulous water damage restoration services.
Our agents know that usually water gets in the house through a pipe that has burst or through a leak coming in from the roof. To best serve you, our mold removal St. Charles specialists use dehumidifiers and air movers to get rid of every bit of moisture.
This is how we can stop more mold from growing, as well as remove the fungus that has already begun to infest the area. Our technicians install vapor barriers to stop the spreading of mold spores to other parts of the home during our cleanup.
Call us the moment you need mold and mildew removed from your home and our mold removal St. Charles operation will go the extra mile to make sure that happens for you today.
Our Mold Removal Pros Will Do Whatever It Takes To Make Homeowners Happy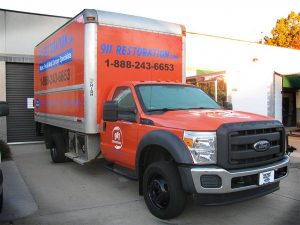 Maintaining customer service is our main priority when our mold removal St. Charles team approaches a mold removal restoration job. Our staff takes every job seriously and we want to ensure that you get the best care when you reach out to our technicians.
By having so much experience in the industry, our mold removal St. Charles agents know exactly what homeowners need in order to be satisfied with our services, which includes affordable prices and around the clock availability.
Insurance is also an important factor of water disaster remediation, which is usually a component of mold removal, so pros will contact your insurance company on your behalf and file your claim for you, if necessary.
The goal of our mold removal St. Charles crews is to get you the lowest deductible and keep your out-of-pocket expenses low, so when you call us we will provide you with everything you need.
Call our mold removal St. Charles operation at 911 Restoration St. Charles the moment you discover any kind of mold growth or water-based emergency occurring in your household, and our workers will get started on giving you and your home a fresh start.