Fire Damage Restoration St. Charles
Damage from a fire can be devastating to residential and commercial property owners. Our team of professional fire damage restoration technicians at 911 Restoration of St. Charles strive to provide quality fire damage restoration in St. Charles and surrounding areas.   
Our team of professional fire cleanup crews will help restore your property back to normalcy. They are quickly dispatched to your site within 45 minutes or less. 
Storms, floods, tornadoes, and strong winds can threaten properties and cause a fire or flooding emergency in St. Charles and surrounding areas. 
When you're dea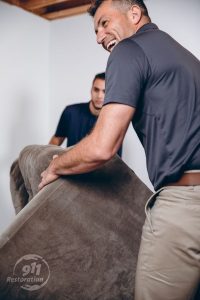 ling with a flooded basement on top of fire damage, our fire damage restoration crew will take your urgent call. We will assess the extent of the damage and also assist with smoke remediation in St. Charles. 
Our St. Charles technicians also provide puffback cleanup after a fire is put out by firefighters. 
We work quickly to pack up and store any remaining items and prevent it from being damaged by water after a fire. Our fire restoration St. Charles crew are qualified and trained to handle any fire damage restoration projects as well as efficient and speedy puffback cleanup and smoke removal and smoke damage cleanup in St. Charles.
At 911 Restoration, we are optimistic and hopeful about giving our customers the "Fresh Start" they deserve. We do this through our advanced fire disaster restoration and water cleanup services that include the following: 
Smoke deodorization

Ash and tar cleanup

Removal of burned possessions

Replacement of fire damaged flooring

Restoration of smoke stained walls and ceiling

Water damage restoration

Overall comprehensive home damage repair

Cleanup of fire retardant chemicals
Call us at (636) 942-5516 and please allow us to offer you a free visual inspection.
When you need immediate flood water damage St. Charles, fire damage restoration, or mold remediation, you can count on our IICRC-certified fire damage restoration staff to assist customers in St. Charles and surrounding areas such as O'Fallon and Saint Peters. We are available 24/7/365 because we know that a fire emergency does not wait. 
We Know What Needs To Be Done To Remediate Every Trace Of Fire And Smoke
When you're dealing with smoke damage and extensive flooding, you want to leave your property in the hands of a trusted and certified fire damage restoration company.
With decades of fire damage restoration experience, we safely and effectively work on smoke removal techniques, puffback cleanup, and deep cleaning and sanitization St. Charles after fire cleanup.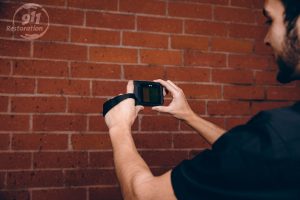 We can quickly clean up a flooded basement, repair a ceiling leak, and board up areas as well. We check to make sure that all areas are free from moisture. If water seeps through the cracks or corners of your property, our technicians provide prompt and reliable mold remediation services.
Moisture that remains on the property can cause foundational damage to your property and potentially leave room for mold removal St. Charles to thrive. After we do a thorough inspection, our smoke damage restoration St. Charles team will also work to safely remove items that might have been burned or damaged by the fire. Our crews use professional-grade equipment for deep cleaning, sanitization, while removing ashes and soot from furniture and other areas. 
A fire can cause smoke damage and also leave strong odors behind. For this reason, our fire damage restoration crew uses the best industry practices and equipment to thoroughly sanitize your property. We'll eradicate any trace of ash, smoke and soot. 
Contact 911 Restoration of St. Charles to restore your property after fire damage with immediate fire cleanup in St. Charles today. Call us at (636) 942-5516 and learn how we can help.
Our Fire Damage Restoration Pros Always Put Their Customers First
As a nationwide disaster restoration company, we strive to provide quality customer service. 
911 Restoration of St. Charles is dedicated to providing peace of mind by doing everything they can to protect your property from smoke damage and overall fire damage. We provide quality and urgent smoke restoration and work fast to eliminate moisture. 
We treat your property as if it were ours and work swiftly to provide quality fire damage restoration and fire cleanup. We are happy to answer any questions you may have concerning puffback cleanup, smoke removal, mold remediation, and fire damage remediation services in St. Charles and surrounding areas. 
Contact our smoke restoration and fire damage companies  St. Charles professionals at 911 Restoration of St. Charles today. We provide quality smoke removal, fire cleanup, puffback cleanup, and other fire damage restoration services for your property in St. Charles and surrounding areas. You deserve a "Fresh Start" – don't let fire damage or flooding dampen your spirits.