Sanitization and Disinfection Services in St. Charles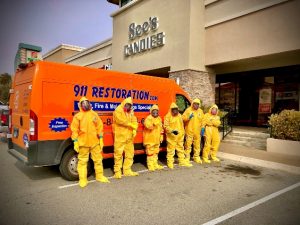 The coronavirus outbreak presents our local community with an unprecedented challenge. Between the threat to our local economy and the more significant threat to the lives of our vulnerable neighbors, this pandemic calls for our best efforts and sustained vigilance. The St. Charles community is strong, and we will overcome this difficult time. But we must take it seriously.
Do not underestimate the contagious nature of this virus. Even those who exhibit no symptoms can still carry and spread coronavirus. Some individuals will not show signs of infection for as many as 14 days after exposure. In fact, there are carriers who do not experience symptoms at all. This means you can never assume those around you are virus-free. You may be infected yourself.
Call us at (636) 942-5516 and please allow us to offer you a free visual inspection. covid 19 cleaning companies in St. Charles.
We don't share these facts to scare you. In fact, many who become ill from coronavirus can recover easily without hospitalization. But others in our community will not be so lucky. Senior citizens and those with underlying medical conditions face potential complications from infection. They may even die. For this reason, practices such as social distancing and frequent hand-washing are absolutely essential.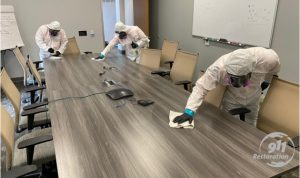 Also take great care to thoroughly sanitize your home and business. If you own a retail store or any other commercial facility, do not assume a contaminated space will "air out" overnight. Coronavirus can still be viable on a surface hours and even days after exposure. And you cannot know or control the preventative measures taken by your employees and staff outside your office or facility. Anyone could expose your property to the virus at any time. This is why you must disinfect the space thoroughly and frequently. The same applies to your residential property. For the sake of yourself and your family members, sanitize all surfaces, especially when someone returns home from a public space.
Call us at (636) 942-5516 and learn how we can help. we are available 24/7/365 for sanitation covid 19 cleaning services in St. Charles.
We know many property owners feel lost or overwhelmed by the burden of constant disinfection. 911 Restoration of St. Charles is here to help. We provide professional sanitization services in St. Charles and throughout the wider region. It doesn't matter if you need an office deep cleaning or home disinfection. We serve both residential and commercial properties. And our technicians are trained to follow CDC and EPA protocols. They understand how valuable peace of mind is during these uncertain times. Our team works hard to ease your mind, so you can provide meaningful reassurance to the customers and staff who keep you in business.
St. Charles has always been a strong community, and we have no doubt we'll rise beyond this temporary crisis. There is always a Fresh Start waiting on the other side of disaster restoration St. Charles, and we're here to support you until then. For expert sanitization and disinfection, call us at (636) 942-5516 and learn how we can help..